The Hatchimals Toy
Watch this video if you're unfamiliar with the toy that's currently exploding in popularity.
Hatchimals are small, robotic critters that were created by the Canadian toy maker Spin Master. They debuted in October and soon exploded in price. Hatchimals are unique in that they are sold encased in various colored eggs, and each egg contains one of two possible variations of a single type of Hatchimal Toy (scroll down to see the types of toys). In order to get your egg to hatch,you have to play and nurture it.
The process to hatch a Hatchimals egg usually takes about an hour. Once the Hatchimal…er…hatches, it learns things from the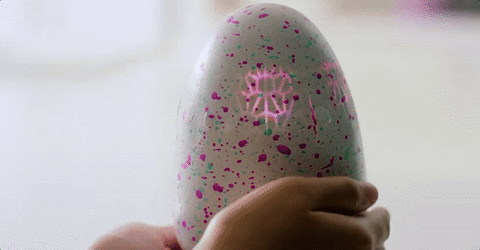 owner as it "matures", progressing through infant to kid stages. Then, they can be taught to talk, walk, and spin. The more the Hatchimal is played with, the faster it grows! According to Spin Master, each Hatchimal is unique after completing the birthing and growth stages.
The appeal is simple and mesmerizing.  Kids get a taste of what it's like to raise and mold a cute animal, and you don't have to deal with all the mess and responsibility of a real animal. It takes up hours of their time in a functional manner, and the fun doesn't end once they hatch, despite what their name might suggest. No wonder they grew so popular so quickly.
How Much Is A Hatchimal?
Initially, the price of Hatchimals was around $50 – if you were purchasing them from an online retailer. Due to the various issues, ranging from their stock to resellers jacking up their prices with the high demand, the cost of a Hatchimal is now pretty varied. One thing that seems to remain constant is that they aren't really cheap. If you want to get the cheapest Hatchimal possible, I suggest heading over to Amazon.com. In general, the best deals are usually hosted on their website (more on that below). If Hatchimals are having any sort of sale you'll likely see it reflected on Amazon's website.
back to menu ↑
Hatchimals In Stock
This message was posted on the official website of the toy, Spin Master.
The consumer response to Hatchimals has been extraordinary, exceeding all expectations. Some of our first shipments have already sold out. While additional product will hit retail shelves in November, we anticipate this inventory will also sell out quickly. We have increased production and a whole new batch of Hatchimals will be ready to hatch in early 2017.

This is a special season and we don't want anyone to be disappointed, nor do we support inflated prices from non-authorized resellers. We are working on creative solutions to help kids and their parents withstand the wait. In the interim, some retailers are developing pre-sale and/or rain-check programs for redemption in January. We will continue to update with program details as they become available.
While grim news if you're trying to stock up on these toys at the last minute, there are workarounds.
The best place to check for them in stock is Amazon.com, in my opinion. Amazon keeps up with the best deals and will get you the best price on them. Plus, even if Amazon is officially out of stock, you can purchase them from one of the trustworthy third-party sellers that Amazon instead shows. Here are some of the available listings." Other places like Walmart, Toys R Us, and even Kmart have them, but supplies have been varied greatly due to the creators not expecting such a high demand for their toy.
back to menu ↑
Buying Hatchimals In the UK
Hatchimals are the bane of American parents' lives at the moment, but that's not stopping our friends overseas from trying to get their hands on them. What she used was a genius technique of shopping at Amazon.it (the Italian version of Amazon) since they have more of the toy in stock than Amazon's other locations.
There are, of course, some potential issues with utilizing this method. You'll have to translate the page to make sure you're purchasing the right brand of Hatchimals, and not some sort of shady off-shoot. You'll also want to make sure you convert the currency before you somehow end up paying more money than you needed to in order to buy the toy. Then, you'll have to deal with increase shipping costs (and potentially delayed shipping times). However, if you're willing to deal with all this to get your Hatchimal, it's a clever method to circumvent the current stock issues afflicting many other parents trying to deal with this issue.
Credits to Holly Smith, who runs the blog "Extreme Couponing and UK Bargains", for coming up with this method. Thanks to her, many more parents and kids will be able to enjoy the fun of Hatchimals.
back to menu ↑
Video Review
Here's a short review on youtube from a mother who picked up the toy. Watch this if you're looking for an unbiased opinion on the Hatchimals, as well as a further understanding from a parent's point of view about them.
back to menu ↑
Types of Hatchimals Toys.
For a more in-depth description of the different types of Hatchimals and their exclusives, check out the Hatchimals Type guide.
Draggles
This little fellow is THE most popular Hatchimal currently, for whatever reason. They come in blue and green, and are described as being the most vibrant colored of all the Hatchimals. Unfortunately, popularity doesn't mean cheap, and this one sells at about the same price as all the rest. You can check and see if this little guy is in stock over at Amazon by clicking the image or the button below.
Owlicorn
The second most popular Hatchimal. You can check and see if this little guy is in stock over at Amazon by clicking the image or the button below.
Pengualas
Pengualas come in pink and vibrant red and yellow.
Bearakeet
Bearakeets are actually exclusive to Target.
Burtles
These are exclusive to Walmart.
back to menu ↑
Get Your Toy Today!
These toys are an absolute hit with kids, and there's no reason to not get one if you c
an afford it and can find some that in stock. I recommend that if you want the cheapest one possible, you head over to Amazon and see what their best prices are. As far as actually selecting one of them goes, Draggles are the most popular Hatchimal available and should be a pretty safe blind buy.
These toys are an excellent use of your kids time, while subtly teaching them the nuances of responsibility, care taking, and maintenance. The only downside I can think of is that you may end up incidentally sparking a discussion about getting a puppy or kitty several months down the line. In which case, you can bet that the time a Hatchimal was raised will definitely be brought up and thrown in your face.
back to menu ↑
Conclusion
To round everything up:
Hatchimals are the latest toy crazy in 2016, and will likely be extremely popular for years to come. Think Tamagotchi.
The company, Spin Master, did not anticipate their popularity and is having issues keeping them in stock, which is currently increasing the fervor people have to try and buy them for their kids.
The toys require that you show them love and attention in order to hatch and grow, an aspect that creates an emotional investment and keeps kids attached to them.
There are a few places they are still available at various prices, such as Amazon (although you may have to buy them from an Amazon approved seller rather than straight from Amazon itself).
Draggles and Owlicorn are the most popular, but the other three variations are equally safe bets.
That's a quick and clean summary of what Hatchimals are, why they are so popular, and where to get them! Hopefully I've managed to make your shopping a little bit easier today.